Linda J. White, author of the Christian fiction, Seeds of Evidence, will be on virtual book tour May 6 – 31 2013! By day, Linda writes editorials for The Free Lance-Star, a newspaper in Fredericksburg, VA. By night, she plays the "what-if?" game, entangling engaging characters in "white-knuckle" plots. Her first FBI thriller, "Bloody Point," was published in 2005. "Seeds of Evidence" (Abingdon Press) will be released in April 2013. Linda's husband, Larry, was a video producer/director at the FBI Academy for over 27 years. Married since 1970, they have three grown children and now live with two dogs and two cats on two beautiful, wooded acres in Virginia.
You can visit Linda's website at www.lindajwhite.com.
About her book:
Stressed-out FBI Special Agent Kit McGovern returns to her grandmother's Chincoteague Island home in search of peace. But when a little boy's body washes up on the beach, Kit cannot resist throwing herself into the mystery of his murder. Her only clues: the tomato seeds in the Latino boy's gut, and the acorns in his pockets.
The medical examiner points out that the volume of tomato seeds in the boy's gut could indicate he was from a farm worker's family. But the acorns? Kit discovers they're from a Virginia live oak, not native to the area where the boy was found. Can she use those to identify his origins anyway? And why hasn't anyone reported him missing?
Kit meets David O'Connor, a D.C. homicide detective in Chincoteague recovering from a shooting incident. She makes it clear she's not interested in a relationship, but their passion for justice is mutual and they soon forge a partnership to find the boy's murderer. As plant DNA evidence leads them straight into the dark world of human trafficking, Kit and David wrestle with the depths of human evil, with questions of faith, and with possibilities for hope. "Seeds of Evidence" takes readers on a white-knuckle ride they won't soon forget.
Purchase Your Copy:
Visit Linda's official tour page here.
Linda J. White's Seeds of Evidence blog tour is brought to you by the fine folks at Pump Up Your Book. Visit us at www.pumpupyourbook.com.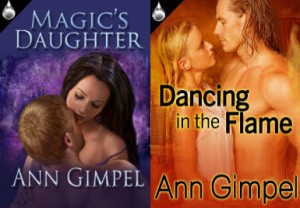 Ann Gimpel will be touring May 6 – 31 with her spicy paranormal romances, Magic's Daughter and Dancing in the Flames. We are looking for reviews, interviews, guest post spots, first chapter reveals and book spotlights with giveaways. These books are available only in ebook format for review. Please mention how you want to host this author, which book you'd like to host and which date would work for you when inquiring.

Magic's Daughter

Destined to be surrounded by magic yet have none of her own, Cassie walks a thin line between love and danger. Her mother is dying and her boyfriend has turned into something which terrifies her. By the time she wakes up to the danger she's in, it's nearly too late.
Cassie's friend Jeremy warns her about her scumbag boyfriend, but she's not listening. Deeply disturbing events unfold. Her life hangs in the balance. With few choices left, she and Jeremy join forces to battle the darkness threatening them. Meanwhile, Cassie warms to Jeremy in ways she never could have anticipated. Love was there all along if she'd just opened her eyes and looked.

Dancing in the Flame
Life in a were bordello is all Keira has ever known. Because of her mixed blood, none of the magicians' guilds want her, or protested when the Weres bound her as an indentured hooker. Mired in the hopelessness of her dreams, Keira longs for more.
Barrett, one of the Daoine Sidhe, runs a magician supply shop in what's left of Seattle. No one is more surprised than he when the Sidhe leader commands him to extricate Keira from the weres.
Magic and intrigue throw Keira and Barrett into one another's arms. Convinced they have a job to do, they struggle against the heat of the passion between them. Until it gets way too hot to handle.

Ann Gimpel

Ann Gimpel is a clinical psychologist, with a Jungian bent. Avocations include mountaineering, skiing, wilderness photography and, of course, writing. A lifelong aficionado of the unusual, she began writing speculative fiction a few years ago. Since then her short fiction has appeared in a number of webzines and anthologies. Several paranormal romance novellas are available in e-format. Three novels, Psyche's Prophecy, Psyche's Search, and Psyche's Promise are small press publications available in e-format and paperback. Look for two more urban fantasy novels coming this summer and fall: Fortune's Scion and Earth's Requiem.
A husband, grown children, grandchildren and three wolf hybrids round out her family.
http://www.amazon.com/author/anngimpel
http://www.facebook.com/anngimpel.author
@AnnGimpel (for Twitter)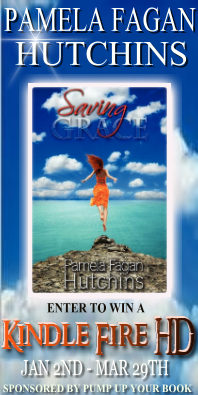 Pamela Fagan Hutchins, author of Saving Grace, is stopping off today at Book Marketing Buzz, as part of her virtual book tour with Pump Up Your Book where she is giving away a Kindle Fire HD!
If you're at all inclined to be swept away to the islands to fall in love with a rainforest jumbie house and a Texas attorney who is as much a danger to herself as the island bad guys, then dive headfirst with Katie Connell into Saving Grace.
Katie escapes professional humiliation, a broken heart, and her Bloody Mary-habit when she runs to the island of St. Marcos to investigate the suspicious deaths of her parents. But she trades one set of problems for another when she is bewitched by the voodoo spirit Annalise in an abandoned rainforest house and, as worlds collide, finds herself reluctantly donning her lawyer clothes again to defend her new friend Ava, who is accused of stabbing her very married Senator-boyfriend.
This giveaway ends on March 29, 2013. Enter daily!
If you'd like to visit the author's official tour page to gain more entries and find out where else she will be appearing so you won't miss out on a great opportunity to win a Kindle Fire HD, visit http://www.pumpupyourbook.com/2012/12/26/pump-up-your-book-presents-saving-grace-virtual-book-publicity-tour-win-kindle-fire-hd/.
Good luck!